A Game-Changing Year
Czechoslovakia and Europe in 1968
We are proud to announce that our project was among 37 proposals that have been selected for funding out of the 357 applications received by the Education, Audio-visual & Culture Executive Agency (EACEA) in 2018 within the "Europe for Citizens" programme, Strand 1: European Remembrance.
——————————
The mission of the project is to commemorate the events of the Prague Spring as a symbol of the efforts for the democratization of a totalitarian regime which were suppressed by force. We want to cross national boundaries in perceiving the recent European past and show events in a wider European and deeper local perspective. Leading universities are cooperating with civic institutions working in the field of historical memory in order to open new doors for historical memory research, arming it with forgotten or unknown sources.
The project's activities are focused on historical research and events for the broader public to show the remembrance of 1968 as a part of the common heritage of civil society in Europe. We hope to have the direct involvement of participants from at least eight EU member countries and spread our activities from the Baltic to the Adriatic and from the Alps to the Black Sea.
GACY '68 research
UNRESEARCHED DOCUMENTS
Despite the years of research on the Prague spring a number of unresearched documents still lay in archives and libraries across Europe. Working on a critical edition of the lesser known and forgotten sources the GACY '68 team is taking efforts in Austria, Bulgaria, Croatia, Czech Republic, Estonia, Italy, Slovakia and Ukraine.
EYE-WITNESS NARRATIVES
GACY '68 team also works on a collection of eye-witness narratives. Publicly active people as well as those belonging to the "silent majority", former soldiers who participated in the Warsaw Pact invasion, people who decided to left Czechoslovakia after the break of the Prague Spring and also the people living in neighboring countries who provided help to tens of thousands Slovaks and Czechs… they all presenting one and the same story from different points of view. Despite all the weaknesses of human memory, the oral history sources show many details sentenced to be forgotten by historians and add an emotional dimension to our understanding of what happened: joy, happinies, disappointment, frustration, hope, spirit, fear, doubts, stress…
GACY '68 events
1968 FIRSTHAND
An exhibition displaying iconic images of the Prague spring together with the "gray area" backround is a result of original research of primary sources from domestic archives and media. Well known photos are set in the context of everyday life and displayed together with pictures from family albums to focus the visitor's attention to the fates of forgotten or lesser known "knights and knaves". Whome to believe, what to wear, where to buy… and many other questions asked by ordinary people in Slovakia and abroad in 1968 are discovered in private letters, narratives, documentaries, newspapers and magazines. Opening of the exbition is planned on March 21, 2019. later on the exbition will visit several cities in Slovakia and abroad.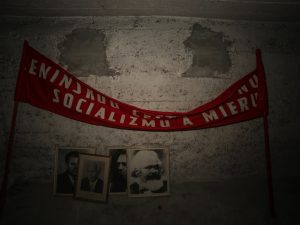 ASK YOUR GRANNIES
A competition focused on secondary school students and organized in cooperation with civil sector partner organizations in Slovakia should enhance the public awareness about the recent past, strengthen historical memory of local comunities and also help to discover stories that might not be forgotten.
INTERVENTION
A role-playing game for students can tell more about the Soviet occupation of former Czechoslovakia than any history text-book. Players assuming the roles of the political leaders of Warsaw Pact member states in a fictional setting take responsibility for acting out these roles within a narrative through a process of structured decision-making. Any secondary school wishing to take part is welcome.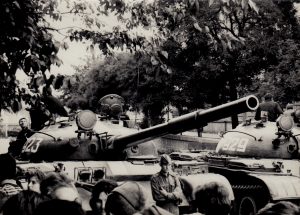 THE LEGACY OF JAN PALACH
Public debates aiming to commemorate the anniversary of Jan Palach's self-immolation (January 16, 1969) and to raise public awareness in struggle for values of humanity. Palach's death is to be discussed not only as a protest against the Soviet occupation, but also as an outcry against the "demoralization" of society in Czechoslovakia caused by the occupation. A long list of other young people who sacrified themselves indicates the significance of living torchs as a political symbol in a wider East-European context. Ryszard Siwiec in Warsaw, Josef Hlavatý in Plzeň, Sándor Bauer in Budapest, Emanuel Sopko in Bratislava, Michal Lefčík in Košice… The significance of Palach's death turned out in 1989 when protests ostensibly in memory of Palach (but intended as criticism of the regime) escalated into what is called "Palach Week". The series of anticommunist demonstrations preceded the fall of communism in Czechoslovakia 10 months later.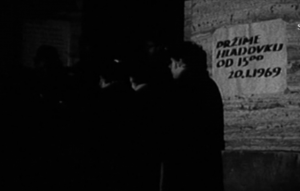 1968 FIRSTHAND
Creating this play we wanted to do more than just accompany the program of the exhibition. Above all, we aimed to create something that would bring the events of the year 1968 closer to young people, and I do believe we have managed that. The students' theater Rusalka, which operates at the Department of Russian and East European Studies, took an active part in this role – spectators in Bratislava, Poprad and Michalovce could see the play thanks to their dedicated work.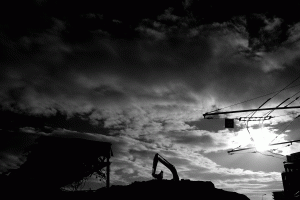 1968: Narratives of Remembrance
A volume dealing with a variety of topics concerning remembrance of the game-changing year in Europe presents proceedings of the international symposium "Culture of Remembrance and Remembrance of Culture" held in Forlì (Italy) on 14th-15th of November 2019.
Although the literature on each of the two main events—the student protests in France, West Germany, Italy and the Soviet-led military invasion of Czechoslovakia—is extensive, and several monographs attempt to understand the year as a global phenomenon, the book presenting works of both established scholars and students can certainly make new contributions to interpretation as well as further open up sources for researching events and memories.
Wolfgang Mueller, University of Vienna, Department of East European History
AND MUCH MORE